ÉAU's aquaponic farms: a solution for food autonomy combined with large social impacts in communities.
For communities and citizens just like you, developing one of ÉAU's aquaponic farms means getting involved in the social and economic vitality of your region. Thanks to the production of fresh, local and affordable food, an aquaponic farm contributes to local food security while being a profitable activity. ÉAU's farms are an inclusive project that will create quality jobs that are accessible to all.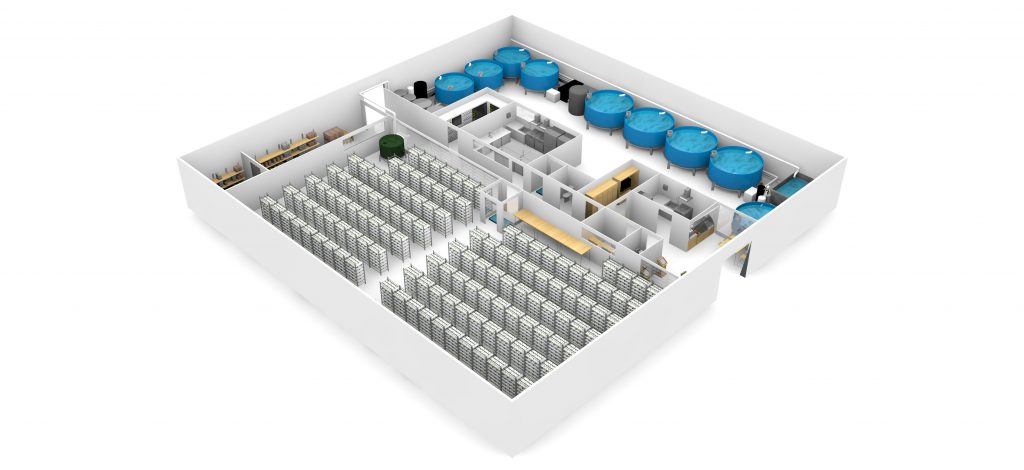 Aquaponics: a highly-efficient food production system with a low environmental impact.
ÉAU's farms are based on the natural symbiosis between plants and fish. It combines aquaculture (fish farming) and hydroponics (growing plants in aqueous solution) to produce fruits and vegetables.

Our production standards are based on the most ecological, ethical and productive standards of production. Because of the continuous recirculation of water, we save more than 90% of the amount of water typically used in conventional agriculture while creating optimal living conditions for the fish. ÉAU's farms enable the production of local and indigenous fish – Rainbow Trout, Arctic Char – at a local scale.
The farms also have the potential to produce up to 150 different kinds of fruits and vegetables, with a productivity rate that is 10 times higher than conventional agriculture. All of this is possible without the use of pesticides and chemical fertilizers, while avoiding any harmful waste discharge in the environment.

An advanced technologies assembly for the benefit of food production.
ÉAU's aquaponic farms integrate the best from technological innovations while keeping a human-centered approach. Our internal proprietary technologies are developed to optimize the performance of the farms and serve the people that work and manage them. We use an efficient LED lighting system, custom-made filtration and mineralisation systems as well as captors that will measure more than 50 parameters in all of our farms, in real-time.

We have also conceived our own integrated management system, called ISAM (Integrated System of Aquaponic Management) that collects data items— such as climatic conditions, effluents, nutritions, O2, CO2, lumens, photoperiod, humidity, external climatic conditions– and presents them in user-friendly interfaces for operators and managers to use easily. This data also enables us to optimize our practices and to continuously and openly innovate for the farms in the ÉAU Network.