ÉAU's technology
Cutting-edge technology at the service of food production 
Farms conceived by ÉAU integrate cutting-edge technologies available on the market while adopting a human-centered approach. The equipment selected by our experts aims to develop environmentally friendly systems that respond to the needs of citizens and communities. In these farms, nutritional and flavorful produces are grown.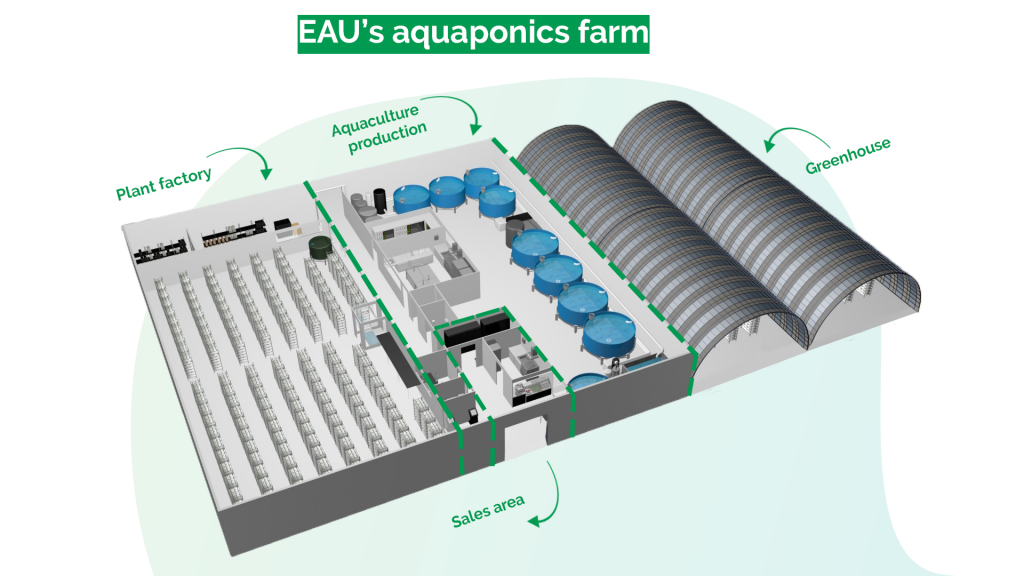 Aquaponics farms developed by ÉAU are adaptable to various terrains. ÉAU offers the possibility for each farm to include modular structures according to the needs and the constraints of each project, such as:
A plant factory
A greenhouse
An aquaculture production
A sales area, open to the public.
A diversified and healthy production
Thanks to the proficiency of its team, ÉAU can develop systems that can generate more than 150 different types of vegetables and fruits and more than eight freshwater species such as : 
Fruit plants 

Leafy vegetables 

Freshwater species 


Expertise to optimize resources 
The performance of a commercial aquaponics system relies on the management of water flux. ÉAU has a multidisciplinary team with an expertise in horticulture, fish effluent mineralization, aquaculture, and fish farming.
From the aquaculture tanks, water fluxes flow to different treatment systems:
         Mechanical filtration Draws fish feces from the aquaponics loop   
Biofiltration
(Water flux #1 from the aquaculture production) This water originates from the aquaculture basins is sent to the biofiltration in order to be recuperated and sent back to the fish basins.
Benefit: Water economy
Mineralization
(Water flux #2 from the aquaculture production) This water flow containing fish effluent is sent to the mineralization system making essential nutrients available to plants.
Benefit: Reduced usage of chemical fertilizer
Lighting selected by experts for a better plant production
High energy performance LED (Light-Emitting Diode) lighting systems allow for optimal plant development. ÉAU collaborates with Quebec manufacturers and tests products to select the best ones, according to the project, the installations, and the type of culture: plant factories or greenhouses.
ÉAU adapts its lighting choice according to the project: 
Plant Factories (usually dedicated to leafy plants production) optimize the space, growing conditions, and the use of resources (no nutrient loss and better water usage).

Greenhouses (usually dedicated to fruit and vegetable production) allow plants to benefit from solar radiation and shelters them from the poor weather.
A accessible system that allows for a better control of the aquaponics systems ÉAU installs surveillance systems that allow farm managers to track: the temperature, PH, nitrate levels, etc. within the facility. In addition to these systems, we offer various training programs to ensure the autonomy of the farms.
To learn more about our services click on Our Services